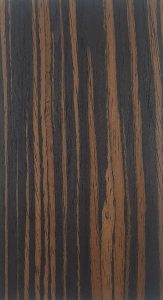 Reconstituted Wood Veneers
Reconstituted wood veneers are defect-free, man-made real wood veneers. They originated in the 1970s when Italian wood product companies decided to develop a new process to produce wood veneers. They began by using poplar and obeche wood species to create dyed veneer products by cutting the logs to thin veneer sheets, before bleaching and dying them to the desired colours.
The advantages of reconstituted veneers are evident…
Firstly, the recombination of the raw wood veneers gives a better structure for the veneers….so there are no defects such as knots or discolouration.
Also, reconstituted veneers are good at keeping the consistent colour and grain, so there's no need to cut and match them, meaning that there's no waste of materials.
Reconstituted

Veneer Gallery
At Quasar, we manufacture a wide range of wood panels, boards and layons using the most common A-grade veneers. All veneers can be arranged in various ways – Booked matched, Slipped match and Random matched. These are then bonded on to various substrates, such as MDF, Plywood, Blockboard and Marine plywood.
With access to hundreds of styles and species from around the world – from everyday species, such as Cherry, Oak, Ash, Beech and Mahogany to rare, exotic species, such as figured sycamore and pearl moon ebony – Quasar is your one-stop shop when it comes to natural veneers.
Quasar wood veneer range:  Designer Veneers| Dyed Veneers |Flexible Veneers | Natural Veneers | Reconstituted Veneers
The team at Quasar we are here to help!