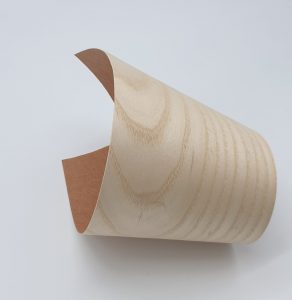 We manufacture flexible wood veneers, The most common are Ash, Beech, Cherry, Mahogany, Oak, Maple and Walnut wood.  All veneers can be supplied with flexible paper.
When we refer to flexible veneer- this is a veneer sheet backed with paper and tenderized to break the wood fibers, making them highly flexible.
Quasar can provide designers with a dazzling choice of wood colours and designs,  Leaving them with plenty of scope to use their imagination.
At Quasar, we manufacture a wide range of wood panels, boards and layons using the most common A-grade veneers. All veneers can be arranged in various ways – Booked matched, Slipped match and Random matched. These are then bonded on to various substrates, such as MDF, Plywood, Blockboard and Marine plywood.
With access to hundreds of styles and species from around the world – from everyday species, such as Cherry, Oak, Ash, Beech and Mahogany to rare, exotic species, such as figured sycamore and pearl moon ebony – Quasar is your one-stop shop when it comes to natural veneers.
Quasar wood veneer range: Designer Veneers| Dyed Veneers |Flexible Veneers | Natural Veneers | Reconstituted Veneers
The team at Quasar we are here to help!