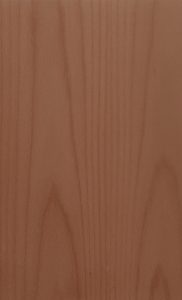 Natural wood veneers are named 'natural' because the unique texture of the wood is completely preserved during the production process. Natural veneer is a first-class, elegant substitute for solid wood.
Natural veneer is wood that has been sliced from the log of a tree. As such, each piece of wood has its own unique and authentic pattern, which reflects both the species of the tree and the environment in which it grew.
In addition to the completely natural wood appearance of this veneer, it also has environmental advantages over solid wood in that it requires significantly fewer logs to produce an end product, because one single log is sliced into many sheets of veneer.
At Quasar, we manufacture a wide range of wood panels, boards and layons using the most common A-grade veneers. All veneers can be arranged in various ways – Booked matched, Slipped match and Random matched. These are then bonded on to various substrates, such as MDF, Plywood, Blockboard and Marine plywood.
With access to hundreds of styles and species from around the world – from everyday species, such as Cherry, Oak, Ash, Beech and Mahogany to rare, exotic species, such as figured sycamore and pearl moon ebony – Quasar is your one-stop shop when it comes to natural veneers.
Quasar wood veneer range:  Designer Veneers| Dyed Veneers |Flexible Veneers | Natural Veneers | Reconstituted Veneers
The team at Quasar we are here to help!